Life and times of Adina Sufya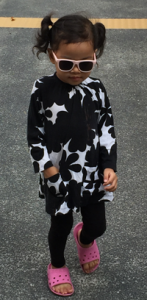 Adina Sufya, I had a lot written on my iphone5 notes while u were growing up. Unfortunately, Ive lost all the stuff i wrote about u in the last 2 and a half years. The things u did, words u say because my iphone 5 went into water and it got shorted when i tried it. :((( now we are left with videos and pictures of u. hopefully that will bring us memories.
18th Sept 2019 : We were riding home after school at Mujahidin Mosque. I told you that we would be meeting Ummi after Zuhur (Ummi had meeting with Mig at City Square). You asked me why and I said that I miss ummi. You replied, as always cannot lose, that you miss her more. You said that when ummi was away, you had to sleep alone with no one to hug. "Hug karrod…" I asked, "But I sleep with you." You replied, "I cannot hug you because you always fart."
25 Jul 2019 :
Yesterday Adina had her learning journey to Admiralty Park. I asked her whether she was scared. She replied she was and then she hit me with…
"But I believing (sic) in myself, and I try. I wasn't scared."
"You believing in yourself?"
"Yes, I believing in myself. And you tell me I just try. Only then I will know. So I believing."
I didn't laugh. I rarely rarely laugh at my kids…only inside.
Today, 25th July 2019, Adina made her first call to me. She called to say she finished studying her spelling. So I tested her…"spell prowling."
With full of believing, she spelled, "P r o w i t i n g, prowling!"
Obviously mash of "pointing" and "prowling". Who cares?? Must have the believing!
10 Jan 2017 : I had to resort to low ball tactics like u will not be able to play your toys if u dun stop crying and go to school etc. pfft. u kinda respond to such trade so ive been using it sparingly.
9 Jan 2017 : U suffering anxiety going to school. Unsure what was causing this as u wouldnt tell me. I mean you are 3yrs old after all. I can only speculate;
– u have a time table now to which u cant play ur toys in the morning
– u may be wearing one too many clothes that is hindering ur movement or occupying too much of ur "space" although u never complaint although u prefer wearing soft pants
– u didnt like ur time in class. it must be boring. too slow a pace or like point 1, u are expected to follow the time table of the teacher, not urs. Hence u cant do the things u want to do
6 Jan 2017 : Mak Long sent u. She told us that u sat at the first floor of the mosque didnt want to go up. She manage to grab u as u kept moving away. Ur teacher brought u in while u were in tears. Since it was a Friday, school ended at 10am. We didnt know but the school manage to get hold of Mak Long who went with Pak Long to fetch u. Pak Long said that while walking back, u looked down and muttered "boring".
3 Jan 2017 : I didnt send u today. But i heard u singing if you happy and something something while dressing up. I dozed off and the next time i saw u was when u came back home. Still intact and munching on something. Baijan fetched u. He told u to take off ur shoes and u did by urself. U listened to Baijan. U are now playing with playdoh and peppa pig. Aunty Hartini gave u a playground peppa pig which we already have. Its ok since she couldnt get it changed since it was bought Dec 12 2016.
2 Jan 2017 : Adina first day of school. So like finally your next year going to school has come. You woke up all fine. Ummi dressed you up and u look pretty in Darussalam's Nursery.
At school, u went into your keras mode. As usual keras kan badan. You didnt want to queue even though Ummi was in line willing to hold your hand. I bend down and whispered to you that if you do not line up, you wouldnt get to play your new play doh i bought the night before.
and just like that, u ran towards your mum and hugged her legs. soon u went up into ur class.
Your mum and baijan who was waiting for his O level results fetched u from school. U came back still tudung intact. Im impressed. But boy were u hungry. U didnt talk much about school. I saw a video of u getting into the classroom and settling into a chair with a fish toy.
7 Oct 2016
Abah girls cannot watch football right?
Of course can, with me can watch and can play.
Girls cannot watch football.
Then wat do they watch.
They watch advertisement.
5 Oct 2016
We entered the lift from 6th floor and you asked me "Abah, wats the time?". I asked you to repeat. Your mum and me was surprised. U look nonchalant.
23 Sept 2016
Adina said this in the car after we sent Ummi to work.
"Good luck Ummi"
13 Sept 2016
Adina wanted to follow Mak to mosque. U thot it was a Wednesday but it was Tuesday. Mak didn't go mosque that day but Mak was meeting Nek Mon for pasar. Adina told Mak, "Salam Nek mon." – kirim Salam Nek Mon.
During this time u can turn the door knobs to open the doors to our rooms.
U new words;
Escarator – for escalator. U also Mix up excavator.
31 August 2016
Playing with u the peppa big book with magnets characters. U fell off the bed and I helped u up. U said Abah, u my hero.
30 August 2016
U were playing kitchen n exclaimed oh my gosh
28 August 2016
We were at jcube on the escalator n there were kids running up the escalator. I was carrying U because u were tired (actually Sakit perut Nak berak) n told u that we cannot run on the escalator. So when u saw them again on an escalator u told me, Abah, cannot run on the escaRator rite? Hehehe
22 August 2016
I came back from meeting at HYFA to get quote for gola futsal. Picked u up at Rumah Teh. U saw me and said I miss u n hug me. Shereen was there n she said cair…
01 August 2016 approx
U used the word "lah". Unfortunately I can't remember the sentence U said. Pfft
18 July 2016
You start saying, "what" at the end of sentence. I was tickling u on the bed with Ummi. Soon i said…
Me : I have to charge the iPad. (It's already 11pm and u are not asleep)
Dina : just now I see can.
You went on to open the iPad and touched the screen and tap on YouTube…
Dina : see, got battery what.
I'm dumbfounded. And u have been using it regularly now.
12 July 2016
Me : nanti kat sekolah kena cakap melayu tau?
Dina : I no layu.
Sloftly – slowly and softly
Me : tonite ok?
Dina : no, tomorning.
Correct and corrong
Saturday = yesterday
15 June 2016
Abah u smell my kencing?
26 June 2016
Me : can I bite Mak?
Dina : no, only bak can bite Mak.
Fave add on in sentence – onde time
On raya 2016, u mentioned astarghfirullah in the car.
Few days before that u were playing with ur toys and u read the doa makan. :))
26 Jan 2016
U felt better. Playing jigsaw in the morning. You are enjoying your time with Chu Eli as she still out of work. Still waiting for the company to draft her contract.
25 Jan 2016
U ran a high fever of 40 deg. Went to doctor and had a tablet inserted into ur butt. U felt tingling now and then. I had to continously see that its tingling and not fits. Doc said the tablet takes 30 minutes to take effect. Abah activated ur cousins. Mama papa kak kinah siti came over to play with you. We had to give u anti biotics which u vomitted after. I forced it on u the second time.
Abg hakim texted me personally to ask about ur well being. Aunty su also concern.
13 Jan 2016
we were at Farhana's tahlil. u help ummi pack the left over food into plastic wrappers. Kuih-muih.
9 Jan 2016
We went to "celebrate" Hasanah's bday at woodlands given the funeral. Uncle Aziz, kak hajerah's brother, came to me and told me that u are brilliant. Apparently they showed u pics on a book and manage to answer all of it. The ones u didnt know, u were told wat was it and pick up very fast.
7 Jan 2016
we were at Farhana funeral. I was carrying Nurul Huda's baby. It was late night about 11pm. You came near to take a look. U had an envious face on. Then the baby cried and u mocked me "Abah baby dun like u," and you laff. Nani ummi laff. Others as well. I murmured u were jealous. Then Yasin took the baby as they about to go home. You said "Abah, baby cry because he wants to go home." It was the first time i hear u use the word "because". U said one full perfect sentence.
5 Jan 2016
Baijan put up 3 fingers and ask how many fingers. U answered 5. Baijan says 3. I said she is not wrong because she sees all 5 fingers. and his qn was how many fingers.