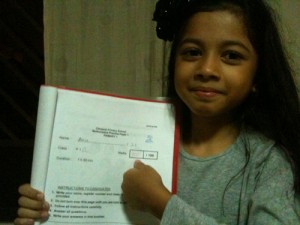 Dear Amira,
Do you remember the day when you came home and proudly showed to me your Maths practice paper for Primary 1? Yes, you scored full marks for that one. I was so happy for you. You were the first to have done it. Baijan highest was 98 in Primary 2.
Back when you were in Primary 1 in Clementi Primary School, they did away with examinations. You guys did have test though which I find was kinda silly. I was totally against this. It did not served any purpose. I spoke this at length in another of my post here. I digresse. With this "practice" test, you had to do it in your class and was not informed about it beforehand!
You are impressing me continously, right from the first moment you read "My Daddy Cant Dance" by yourself. You cried and hugged me in embarassment when I told you how proud I was. For all your toughness, theres a little part of your mother in you. I am very proud to have such a dedicated and committed daughter. I pray that when we read this post in years to come, you would have made your mark.
Sincerely
Abah