Invitation to Hawaiian Bday-Raya Party
Amirul : Abah for my birthday I want to have it like Mira. You know, kat rumah Atar.
Abah : Why?
Amirul : I can swim with my friends and then eat cake like that.
Abah : But your birthday falls during exam period. That is why its difficult to have one for you there. Your friends will be studying.
Amirul : Alah.
We had this conversation probably twice already. So this year, I thought of surprising him and having it at brother in laws place and would like to invite all friends and families.
Location
Its at The Spectrum, 507 Pasir Panjang Road.
Date & Time
Date of event is on Friday, 8th of October and will be held from 5pm to 9pm. I know its a work day, we apologise for we couldnt get a slot on Saturday. Sunday would be too tiring. For those who can, come early and have a swim. If you want to swim later also can.
RSVP
This birthday invite is extended to all who reads this. If you want to come and want to make merry, add a comment on FB or here to say you are coming and the number of people coming for example;
"Im attending, 8 persons."
Or you can call/sms me or the mrs.
All attendees will be provided with an ID tag. You will be scanned upon arrival.
Birthday is running on a budget, only those who has been scanned as valid guest gets to swim, a plate with food and a cup to drink. There will be no fork and spoon, therefore bring your hands.
All untagged guest gets a free swim from which they can drink from. However for a huge donation you may crash the party.
Food & Beverage
Most probably briyani chicken. We are checking the price now. If it is too expensive, it will be briyani sardin. For dessert, various cheese cake and possibly Tiramisu. Drinks are from raya leftovers. All drink donations are welcome.
No barbecue this time round as sardine will fall through the grill.
Birthday Gifts
Unless its the ipad or iphone 4, no gifts please. Money is accepted. All wreaths are to be made as cash donation to your respective charity organisation.
Birthday Cake
I am trying to convince the mrs to get 3 small cakes from the cake shop downstairs. I mean who really would eat the cake. They will be stuffed with chlorine. Or we would ask Chu to make her famous lonjong strawberry cake.
Hawaiian Raya
Since it be the end of Raya, we are also having it as a Raya invitation. So wear your 5 piece suit for a dip, hula hoops and tutus. Dont be shy, you can bring your own cakes especially those balance nutella rolls.
Sworn to Secrecy
By reading this, you have been sworn to secrecy. Amirul is not to know this. Anyone caught informing him, you will be barred at the gate. A poster like below will be put up. Plus your ID tag will siren as AWOL. Cisco officers will be on standby.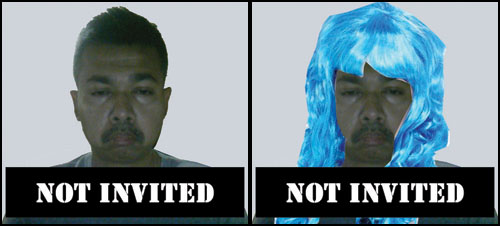 Come and Be Merry
Only happiness is allowed. Anyone caught being sad will be thrown into the pool. I have done it before and will do it again. Its a time to celebrate friendship and families to bond. Lets enjoy it while we still can.