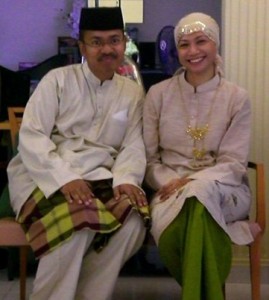 It was the summer of 93 when I first saw you. The first girl I saw during registration in the school. Skinny, ponytailed, with a bag and book in tow. You looked like Olive Oyl.
I tenung but you aksyen tak tengok. I even drove to the school. Itu pun you tak tengok. Aksyen. Nebermind ah. Who knew then, 13 years on, we are married with two kids. Happy anniversary. This year, anak PSLE, jadi no intan berlian. Maybe cincin tembaga can.
Finding a gift for me? Dont worry too much about it. I get them everyday, every week, everytime.
Bak and Mak. Where to find such FIL and MIL? Bantering with your mother is a tonic for the day. Makes me all energised. She often talk to the kids like adults. Especially Mira. It has to be because of the malay dramas. They are made of each other.
FIL, I enjoy the usual conversations we have daily. I get my usual dose of his anecdotes or sniggers and he gets to exercise those jaws of his. Also, im going to trademark his snigger and "Allah!" after making a point or opinion. Oh yes, he saw something in the paper that he wants me to buy. It will appear tomorrow in Mind and Body. Its a knee guard.
I feel blessed that both are in their pink of health. Vibrant and energised. Bak, no matter how hurting it maybe, still does his chores, goes to the mosque and shops. Mak, is probably 70 yet walks to central, goes to the market daily and belajar. Given her size, she is amazingly 55kg!! Although I tend to exaggerate that she has hit 60kg when she goes onto the scale.
I have a condo that I can use for a swim and barbecue anytime. Whether I want or not, I was even offered the gym. I even used the condo store to keep Amirul's present! No space at home. Where to find a BIL like that. And and, for the first time in all my years in the family, I received this on 1 Feb 2012 @ 7.12am.
"Selamat birthday BIL. Semoga panjang umur dan murah rezeki berkekalan."
It was too early but ah, your Malay boleh ah bro!
Mr Pengerusi – you see, we cant call him by his name anymore – one and only who cannot see Mee Goreng and Nasi Briyani. Mesti lantak. It will be long before we can remove the image of baju batik to baju kurung. But im so proud that he is Chairman of a mosque. I can brag about it. And its about time they stop using the mantan thing.
Pengerusi wife, very patient woman. She is enduring a lot. I know. I can see. But ah very the patient. Agaknya dia orang sufi pasal suka cakap dengan pokok. I can rely on her 100%. She will get into action everytime I requested for her help.
Anak-anak dia are my first nephew and nieces. They grow very fast especially the harap harap. It was only yesterday that I carried him (rather I snatched him) when Long went to Haj back in 1999. Then Kinah came and hugged my right thigh and hakim ran to hug my left thigh. When you showed me how pretty Kinah looked on your iphone yesterday, I felt sad and happy at the same time. I like the picture of her laying on the grass with the hat and leaves falling. And the way she danced! Fuyoh! Nevermind ah, better to be in front of us then behind us.
Eli – nonya yang tak cakap assalamualaikum tapi makan aje, so says Tok Tina. She is becoming a lady alright. I remember when she cried when Long left for Haj, forgot to bring her NRIC during her O levels, wrote a long letter in an excercise book so that Mak can read it and when she found love and lost it. And of course she bought for me the perfume and the Red Bull singlet and the green black striped tshirt. And and, I can count on her to look after the kids. I know because one night when we returned home from work, she looked all dishevelled and tired after looking after Amirul – who was still spritely at 7.30pm. Terus dia pergi mandi after that. You can definitely count on her to do the barbecue as well.
Where else can I get this. SMS from Pak Andak before the Man City vs Spurs game at Manchester;
Waaduuuuhh…very far north to Etihad stadium…cruise sank at Italy otw to pick us up…we have to take the bus to Larkin then to Bangkok and take direct flight to Manchester from there…we can start to move now…I wait for you at Larkin…
This is just one of hundreds smses! Not counting those that came this morning!
Another spurs fan in the family, Pak Lang. First words on seeing me after Spurs lost a game – "Apalah boleh kalah. Jangan cakap! Sudah jangan cakap. Diam lagi bagus." And then he would start to talk about it on and on and on.
And where else can you find radio Manchester Utd in clementi?? Where?? Only one! or where got orang boleh sakit bila Manchester Utd kalah? only in this family. Not to forget the Tahu Goreng. Fuyoh! Just called and Mak Anjang will do it. Of course, how can I forget the kenduri before going Australia.
Pak and Mak Busu, what can I say about them. If there are safe pair of hands in this world that I can leave my kids, and you, with, its theirs. So blessed. I have learned alot from them.
Teh, hmmmm, the telor ceplok..Aiseyman! only she can do it perfectly…next of course is Mak Busu and her chilli padi. You can learn alot about slimming down from Teh you know. She has all the methods.
Arwah Tok Jantan. 🙁 Amira says, Abah we should go Kubur and celebrate your birthday and Tok Jantan together! Your daughter, is overly matured. Sometimes the things she says, astounds me. It wont be long before I would be able to hold a conversation with her. Back to Tok, how I wish he had conceded to my request for video filming during our frequent talks about life and the past.
Pak Long kira flies the flag now. He literally flies. I cant catch up with him early morning whenever we meet in the market. Every Friday, during Jumaat prayers, he will squeeze me and sometimes Amirul alongside him.
Abg Rahman and Kak Iju, most loving, cartoon and professional couple ive met. Abg Rahman, what can I say about this Sri Lankan. Very funny and jovial. I enjoy the verbal spar we have each time we meet. Im waiting for the day when we can all drive up Malaysia once again. And you know berapa banyak tiket bola I saved buying? Cuma the last one I had to sit dengan orang kebanyakkan. Tak cerewet ah! Also remembering the effort he made to have me in the Youth Olympic. Thank you sir.
Every sunday morning, i have a team of outstanding players playing for me. Heeding every word I say. Not questioning my instructions. Not a whisper. They just play. Last couple of days, I asked them about who is on for next season and the smses came thick and fast. All of them game. Dedicated. They have been with me for more than half a decade. Ive seen them grow from school to NS to work to marriage to babies. I have 20 kids!
I found new friends like Azlan. Sanggup dia datang rumah repair rail langsir. Have to ask him whether he can do ceiling fans. Their experience was a learning one for me.
Of course there are the other bromances – Malik and Omar. Malik jgn cakap ah. If we were partners, he would have been the lady one. Actually Omar also because he likes it when I kiss him and yesterday at Bhai's house, he asked me to suap him. Which I did. I also gave him a kiss that travels through the air. The table was in between us so I cant bend over – you know, the height differences. Yes, if its not of your multiply, I would not have met or known them. The Desaru trip was one of the best trips I had.
Man, its tiring listing all the gifts you gave me. I have to stop now. I need to do other work and prepare for the game. Have to go to BP to get the letters. It seems that its outpouring from letter box. Love you. I see you later tonite. I might be going to Khadijah. Tell you later.