Whats started out as a normal Whatsapp conversation…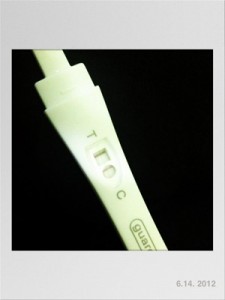 14th June 2012
Me : What time do I fetch you today?
Wife : Not sure yet. Gotta go back office after SGH project meeting. U at Eunos?
Me : Yes I am. No need to go to Jurong East so I will be here.
Wife : OK.
What followed was a shocking graphic (attached) being whatsapp over.
Me : What What???
Wife : U still Ok?
Me : What is this??
Wife : Long awaited?
Me : What what?? What is happening?
Wife : Been there twice
Sometimes I wish my wife will just come straight out and tell me what is going on. This riddle is killing me…softly and slowly…
Me : What colour? I'm colour blind.
Wife : No need see colour. See 2 lines.
Me : Blur or Blue?
Wife : Colour doesnt matter. Its the lines.
She must be really agitated by me now…Thats the beauty of whatsapp, i only hear the good stuff. So to me, she is very calm and assured…No eyebrows touching one another…
Me : O. Wait. I faint first.
Wife : [Gleefully laughing emoticon.]
Sure sure…laugh u emot!
Me : [composing myself] U ok?
Steady ah pakcik. In control konon.
Wife : Happy and unsure. But tearing already.
Me : Same here.
Wife : It'll work out somehow right? It may be our last chance that He has given us I guess.
Me : Yah. So I was told. So I read. So God says. I guess we have a lot of work and savings to do.
Wife : Love you [with a tearing emot]
I dun like this emot. They make fun of my feelings. In the words of Ms Shir, irits.
Me : I love you too. Its all Rachel's fault!
During this period, Friends was showing the episodes of Rachel being pregnant and giving birth.
Wife : and Ross! Should go Dr and confirm or just wait and go KK?
Me : Amirul is getting a lion.
Wife : Eh? a lion?
Me : Yeah. "Oh no Abah, not a lion please. Enuff of a tiger."
Wife : What is he talking about? What Lion? What Tiger?
Me : Hehehe…nevermind. You will know later. You need to take supplements.
Wife : Been taking Folic acid. When you gonna break the news.
Me : Im thinking of the time to break. Maybe I will tell my mum now so that she can start building a castle and it will be ready by then.
Wife : LOL
Me : Do we need to verify? Need to go to KK to verify? Dah berapa hari or bulan?
Wife : Verify with any dr can. KK we go at 4 to 5th month. Time to look at packages again.
A minute pause…
Wife : Explains my appetite. So far no nauseous.
Pause again…Im feeling hot by now. Staring at the ceiling. I had to lay down…
Wife : Tell the kids first after confirm with dr
Me : I dunno dunno dunno. Dun stress me can!!
Wife : LOL
Pause a minute…Me breathing heavily
Wife : Need to take my box of maternity pants from Bt Panjang.
Me : Pinjam Annie or Shireen.
Wife : Annie mana ada jeans or pants! Shireen punya I cant wear.
Me : Ansari punya ada!! [my brother whose waist is fitting]
Wife : Oi!!
Me : When you found out?
Wife : Just bought the kit during lunch.
Me : Cantik ah timing of my sms.
Wife : Macam tahu aje. Did you suspect?
Me : Lately I have been having thoughts abt baby.
Wife : Rachel?
Me : Rachel was an ongoing one. The things I read also. Ada insinuations.
Wife : What did u read?
Me : My health stuff. Then the DHA. Then Amirul's tuition place. The visit to United Square. That Saturday was overwhelming looking at what the parents are doing these days and what the third kid may get.
Wife : Amirul's tuition place?
Me : Yeah. The parents there who want the best for their children. I went to one speciality place and I thought there was no one but there were so many parents inside browsing magazines and playing with their iphones and ipads waiting for their children.
Wife : Ok, Im almost at SGH baby. Talk to u later.
Me : Ok. Luv u and Thank u.
Wife : Luv u too baby.