Brazil will win world cup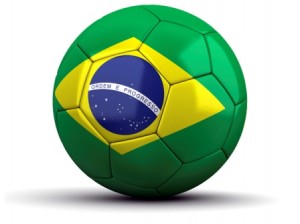 I did a prediction on who would win the 2010 world cup. I did this on a couple of numerous world cup schedules plastered on my cupboard. Yes yes, I have about 4-5 schedules of which two has not been plastered yet for I ran out of space and wife giving me the look when I tried to put it on another surface.
Anyways, the last four came to England vs Brazil in one semi-final while the other Argentina vs Spain. So it could be an all european final or all south american final. OR it could be one of each. Whatever it is, the prospect of watching world class in the last 4 games is exciting.
This is how I rate the last four;
Technically Gifted
Brazil 4
Spain 3
Argentina 2
England 1
Flair
Spain (I know this is shocking!) 4
Brazil 3
Argentina 2
England 1
Defense
England 4
Spain 3
Brazil 2
Argentina 1
Scoring Ability
Spain 4
Brazil 3
England 2
Argentina 1
Mental
Brazil 4
Argentina 3
Spain 2
England 1
Confidence
Brazil 4
Spain 3
Argentina 2
England 1
TOTAL POINTS
Brazil 20
Spain 16
Argentina 11
England 10
Well, this is based on what I seen and read. I saw the Spain against Argentina friendly as well as shots of Spain against Poland, they were devastating. Their key is midfield. They have to get Iniesta fit. Even that they have others who can step up – either from close control, short passing like Xavi Fernandez or, long ball – Xabi Alonso.
Furthermore, they are mentally ready and riding on their Euro 2008 winnings. Its more or less the same players. This is possibly their final glory and emulate France if im not mistaken 1998 and 2000.
Brazil as always will be the favourites. They have the mental strength to push forward. Dunga is working on the defence for its the foundation to launch forward. Fabiano is key but erratic. I was hoping to see Neymar. A prodigy in the making.
Argentina is good only because Messi is in there. Other than that I dont see how they are going to make it. In this tournament, they will be more like tumbling across the finishing line.
England, my man England. What else to say. They will choke at the final hurdle. Gerrard is not going to make it in the center. He is going to be a misfit there. He has been throughout this season. They need someone else in midfield to partner Lampard.
Crouch and Rooney will be good for England. So if rooney can control his temper, lennon can provide the crosses, crouch provide the touch down, they will be banging.
Heck for the fun of it.