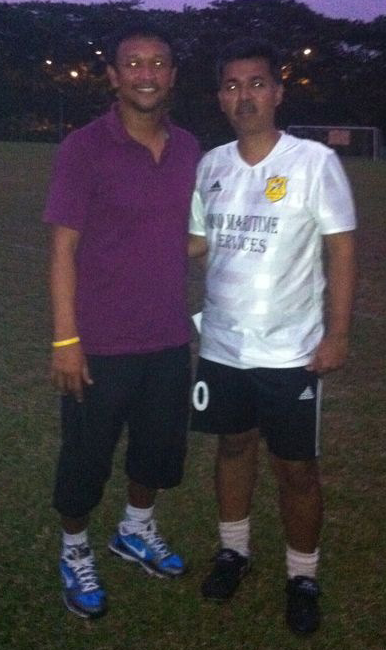 There will come a time when a man reach a pinnacle in his "career", and mine was achieved on 26th July 2011.
I have been coaching an amateur side, Al-Caliph FC, since 2006/7. We went through a lot, lost members a long the way and gain new ones, improve as we go along and won a number of competition. We were more then a team, we are a family. And our luck has it, we found a sponsor who is very dedicated to the team's cause.
I dont hold any licence, yet – except for FAS Preliminary Coaching. So it was a highlight of my football coaching career to pit myself against the man I idolise growing up, Fandi Ahmad! I use to have tonnes of newspaper clippings of his meteoric rise. I dont know where some may have gone. Last I heard, mum had threw some away. 🙁
It was like any ordinary day when I got a call from a friend who asked whether I want to play against Fandi Ahmad's Academy team.
These were boys there were going to be sent to Italy for training or contract prospect. I said YES! Of course I had to find my team first because it was to be played on a weekday and at 5.30pm!
When the time came, there was a miscommunication and we couldnt play on Tuesday. Our game was changed to Friday. Unfortunately, I wasnt able to assemble any team for Friday, so that was a bummer.
On Saturday I got a call again. My friend told me that the Tuesday's team was whipped 7-1. The Friday's team was a** whooped 12-0. He pleaded with that have these guys beaten and asked whether I want to play against them for the last time before they fly. I dont know about whether I can beat them but I immediately said YES! Thanks to Khai for helping with the recruitment of players for the game. Our players were available later in the day as some had to get off work etc.
Nervous Siol
When the day came, I was a nervous wreck. I couldnt sleep at noon and couldnt cr*p. I can eat though. I was going through what I was suppose to do later; should I put my arms around Fandi's shoulder when taking picture?; should I be on his right or left?; do I kiss him? – no no that one is out; do I speak English or Malay?; asked about the wife – who the hell you think you are to ask about the wife, out with that one….and the list goes on.
Then I realise that I was asking and thinking the wrong things. My God, this must be what its like when Ferguson goes up against Mourinho. Must like how the champions league final is all about. It hit on me that I had a task to do and that was to at least hold these young fellas against our more "illustrious" players – older ones. I managed to come up with something.
Driving to ITE Macpherson was a breeze till I realised that I had forgotten to get the drinks! Damn it! Im still nervous. Made a stop to get the drinks and went straight to the game. As I was walking on across the track, I saw Fandi Ahmad standing there. At the moment, as in the movies, the sound of godliness was playing in the background. I action, pretend to look straight as everyone was looking at me, an old man with a water carton on the shoulder and the big red bag in my other hand. Please god, dont let me fall now.
Fandi Ahmad Siol
The referee came up to me. We knew one another from a couple of games we were in. He wanted to kick off early and…Fandi came into the picture. THE MAN IS STANDING IN FRONT OF ME!!! He is tall man. Do I kiss him? No no, salah salah salah. I looked at him, looking cool, eyes gleaming.
"Do you have enough man?"
I extended my hand to salam. Dey, masuk conversation, salam first ah. He saw my hand and salam it. Smooth and tender. I aint washing this hand.
"Err.."
"We have a lot of guys today and so we hope to be playing three halves of 30 minutes…"
Thinking that he will give me some of his players.."Ok can."
"A lot of them came today and I thought I give them all a chance to play. Of course its up to you."
Hmmm I dont think he is giving me men. So my team will die. Doesnt matter, I will die in his arms.
"Can can" were the only words that came out of my mouth.
We separated and I was smiling.
"He shook my hand!" I told the boys. "And now I have to pee!"
Kalah Siol
Final result was a lost of 0-2. Not bad actually considering we were playing against a team that was training everyday. They were young thus stamina was there. Both the goals came from errors. We had our chances but didnt take them. We had to release the ball faster but were slow thus opportunity were lost. Frankly, I didnt think much of the team. I told our sponsor Mr Dino as much and that probably the other team went into the game without a game plan thus making them look good. They were under pressure from Fandi as he gave them instruction to release the ball early and to switch the game. Something you wont find them doing under any unknown coach.
Proud Siol
Im proud of my team. We manage to hold them. Our stand in keeper, also named Khai did well. So well that Fandi said that he wants to sign him. Nevertheless. it was an experience for everyone. It is something that they will recount in their lives ahead. Something they might tell their children and grandchildren, no matter how trivial the game may be. We took photos then after. For memories sake.
As I shook the hands of the academy's management, one asked about Al-Caliph's background and claimed that we were one fine and discipline team. My already big nose got bigger. I salam everyone, turned around to see Fandi standing behind me. Had a small chat and shook his hand and walked off. I used rule 314 from my GF guide book. It was truly a highlight of my career.