Kranji Primary School FOX 2012 – Vietnam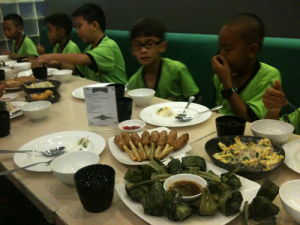 Like the previous year, Kranji Primary School went on a Football Overseas Exchange (FOX) to Vietnam. As requested by the school, I joined the group of 20 players. We departed Singapore on the 30th May 2012 at about 1745hrs. Arrived in Ho Chin Minh city at 1930hrs. We headed straight for dinner. It was about half an hour journey. It was my first time in the city and of course very jakun. You can see from the various videos I captured. Their mode of transportation is motorcycle. Rare do you see a car or cab or even buses. Maybe it was night time already.
Leaving the airport at the the toll.
Briefing by Mr Khai at the hotel.
Will write more tomorrow…Tired and have to prepare for work. Good nite!