All I wanted was clipped toe nails…
Years ago, my lovely wife went about clipping my nails. She started with the fingers which was all fine and dandy. Then she went for the toes. As a muslim, there is a procedure to follow in cutting nails. For the toes, it starts with the small right one and work all the way to the left. As she went on from the small one, it was all ok till she got to the big toe. That was when I saw she was struggling…shivering to be exact. I sniggered quietly when I saw she was shivering, using two hands to clipped, like pliers loosening a tight nut. From that day onwards, she skipped my toes entirely.
Every now and then, I thought about the incident and smiled to myself and wondered if it would happen again. So last Sunday, I decided to give it a shot. I asked her to clip my toe nails. She looked at me forlornly…"Amir punya toe keras." – Basically, she is saying that I got tough toe nails.
Undaunted, she rummaged through the drawer and pulled out an almighty clipper and snipped without a hitch although I could see she was mastering all her strength when she got to the big toe.
All done. Or so I thought…
She took out a rectangular blackboard duster – thats what it looked like to me – and went on to file off my nails. SHICK KE SHICK SHICK KE SHICK..it went back and forth. I was feeling all girly but thought what the heck. I want to see / feel how this manicure and pedicure thing works.
Then she took a loti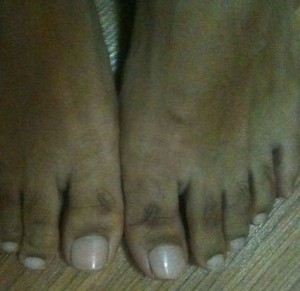 on or liquid or shoe shine and applied on every nail. Now its gleaming. Im impressed. Look quite pretty and smooth. Now when I rukuk, it doesnt look so bad – as compared to the others… heh
Yesterday, four days, after the girly expedition, I touched the virgin nails. They are soooo smooth and I cant help feeling it now and then.