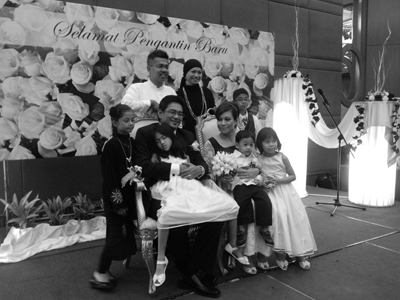 My kids, do you remember the day we went for my cousin wedding over at Shah Alam on 9th July 2011? It must have been ages ago. Anyway, it was my long lost paternal cousin (hopefully the time you are reading this, we are still in contact), Ahmad Yani got married. It was not his first marriage actually but we prayed that it was his last.
Yani and me were close when were young and we played a lot together. When he moved to JB, I would visit him during the holidays and we had a lot of fun like longkang fishing, soccer (he was much better player), kejar ayam or rather kena kejar dengan ayam (rather then we chasing the chicken, we were being chased by the chicken) and other mischievous stuff including bathing together. My first and only shower with a man! I tell you a secret, after getting out of the shower, while in towels, he teased the maid. The maid chased after him and pulled his towel off! Me? I kept my mouth shut with two hands tightly gripped on the towel.
His dad passed away one day and 2/3 days later, his mum passed away. He left home to carve his own life – so I was told. Uncontactable and unreachable. When we found ourselves on FB earlier this year, my eyes glint a little. When he said that he was getting married and invited me, I had to come over to see him.
He was having the wedding dinner in a hotel ballroom so we booked a room for the night. There was no way I would be driving back the same night. We left Clementi at 9am and arrived at 2pm, stopping at Machap so that Amirul can have his Kebab – 2 of them – and Amira, her pau kaya. On this day, there was this illegal assembly planned in KL. It was named Bersih 2.0. I was touched when Bak called your mum to asked how we were or whether we were affected. Actually we werent affected at all. The journey was smooth and the location of the hotel is in the middle of offices. Not much residential building around. Next to it was the UMNO HQ. It was quiet.
We shopped a bit at a nearby shopping center – you knowlah, to satisfy your mum. Something you will find similar to Singapore heartland mall. They had MPH, Nokia, Bata, British India, kedai baju kurung – upmarket sikit – banyak. There were very nice actually. Do you remember the lunch we had at the Teapot Deli? It was awesome wasnt it. Homecook lasagne, nasi tomato with bread butter pudding, roti jala and roasted chicken. We should have tried the 12RM mee rebus. Would have been awesome! Got no more space to fill already.
Ahmad Yani and Raja Norwatie Wedding Dinner
We went back to the hotel and rested for a while. Got ready at 7pm and after maghrib, we went to the ballroom. His other guest was already there. I saw Adam, Yani's elder brother – the eldest died years ago probably from brain damage after countless bout of kickboxing, if i remember correctly. We spoke a bit and met up with other step-cousins. It was my first time meeting them.
It was 8pm before the bride and groom came in. I was near the entrance to take the following video. Unfortunately he didnt see/recognise me. Member jalan terus aje. And they were playing From this Moment, same song I had for your mum on our wedding day. What were the odds.
While sitting, our eyes did meet but he did not recognise me. It took him a while before realising that it was really me. We hugged for quite a bit. Macam dalam cerita Korea. Luckily it was not in the middle of the ballroom, and we didnt kiss although I did kiss his cheek. Yani and me had lost contact for over 25 years and it was poignant moment when we hugged.
We had a little chat and the first thing he said to me was "Apasal rambut kau putih?" (Why is your hair white?). Heh. I am surprised that he remembers the scolding(s) we had from my dad for not praying. He also remembers when he was in Singapore for a visit, we went fishing with my tuition teacher. Even I forgot that one. That was how close we were and that some memories were sewn deep.
My Cousin is an Awesome and Talented Singer!
He got up on stage to say his thank yous and sang a song. My word, he can sing. When he sang Open Arms from Journey, I had to record it and I did. You can see it in the video. He has a nice voice. Thats my cousin you know.
The next day breakfast, we met again and spoke. I realised that he had a single "Sayap Lara". MY COUSIN HAS A SINGLE!!! The song is not nice and doesnt do justice to his voice. He should sing more rock ballad. Also he was in a mini series, WiraSiswi! I saw a trailer of it on youtube. Boleh tahan jugak my cousin ni.
Our Indian Heritage
Oh and according to your grand aunt, Mak Ngah, we were from Karaikal. I looked it up and yes there is a city/state named that. Its within Puducherry dah dei. So now we know we are not from Pakistan but Karaikal. Luckily my grandfather, Haji Wanjor changed his name from Thambi. Else, you would have been Thambi Amirul and Achi Amira.
We had to leave soon after. You guys had school the next day and I vowed to get you guys back home by 6pm. We said our goodbyes and promised to stay in contact. Im thankful to FB that it has allowed us to constantly update ourselves with the going ons within the family. I hope when you are reading this, we are all still in contact.