Happy birthday from Johnson, Nate, Mike and George.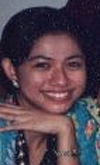 Dey, why you laugh? People from India wish you birthday also you laugh. Cheh!
Anyway I also would like to put my fingers proper to wish you happy birthday my sayang. That picture is the only image I have of you. Happy 27th birthday.

Oh about your gift? Ask George. He is more excited then you are. Im going to bed.