1QF : The Netherlands vs Brazil
The first quarter finals was a let down as I was gunning for Brazil and Ghana to go through.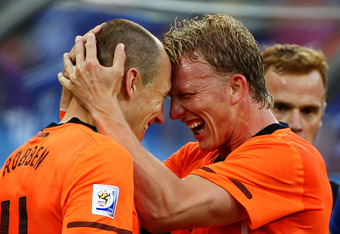 Brazil started brightly with Robinho getting an exemplary goal where he latched on a through pass by Melo. With a quick twist, he directed it to goal. 1-0 to Brazil. Brazil continue to give Netherlands a torrid time. The Dutch defence were vulnerable and their midfield were doing a poor job of holding the brazilians at bay. For all the exquisite attacks, the one twos between kaka, robinho and fabiano, the score remained 1-0 at half time.
The second half started in the same breath. The Oranje were having difficulty stringing passes and their trio of sneider, robben and persie were not working in tandem. They couldnt get into their rythmn. Somehow from an ensuing freekick for a foul on Robben, the Dutch managed to equalise through a hopeful sneider pun towards goal. The brazilian keeper, champions league winner Julio Cesar, decided to come forward to punch the ball. But he clashed into Melo who was also going for the ball. By the look of it, Melo might have received the call late or late to react or was caught in two minds. Whatever it was, the ball grazed his head and the Netherlands were level.
Alas Brazil were their own demise when they fell into the Robben trap. They were sucked into fouling him. It got worse when the brazilians were not able to control their emotions and let it took over them. Melo decided that stamping him would be able to get him out of the game. Unfortunately, his moment of folly caused him his place and deprived Brazil of a full team. Immediately, Sneider made it 2-1 to holland.
Dunga's decision to sub Fabiano for Nilmar, a striker for another striker, when the score was 1-2, was shocking. This is the quarter final and there have only about possibly 30min to rescue the game. That for me was astonishing.
Brazil could have at least equalise in all honesty. They were still able to string the passes but their final ball was disappointing. If they had just concentrate on their game and work as a team instead of taking things into their own hands, and try to be hero, they would have succeeded. Robinho was one that Robben got to. Robinho was angry at all the freekick Robben was getting that he was unable to concentrate on his game. Effectively, Brazil were another man down. Brazil just didnt have the spirit to carry on.
So Brazil were unable to complete the conquest of the World Cup in the African continent.