FINAL : Netherlands 0-1 Spain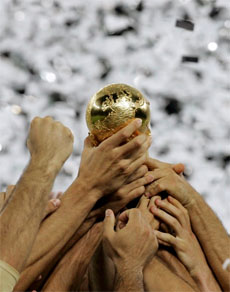 The pinnacle moment has arrived. Either Spain or Holland will be the new world champion in 2010 edition of the world cup. Its interesting to note that since the first would cup in 1930, only 7 teams have won the most coveted prize in the beautiful game.
Brazil – 5
Italy – 4
Germany – 3
Argentina – 2
Uruguay – 2
England – 1
France – 1
Spain or Netherlands are looking to be the eighth team and to win the prize for the first time in their history. Holland were runner up in 1974 and 1978.
No team that has lost the first game went on to win the World Cup. In 1978, Argentina lost a group game and went on to win the World Cup. So it doesnt look good for Spain although they may change history.
Lets hope that it be an exciting and open with goals to boot. 5 finals have gone to extra time with 2 going to penalties.
Once again, Torres has been left out of the first 11 in the spanish side in favour of barcelona's pedro. With his inclusion, Spain is being well represented by seven barcelona's players.
First Half
The netherlands are snapping at the spanish players. No less than 3 free kicks were conceded by the dutch in the opening 3 minutes. Its quite evident that netherlands have to stop the spanish from maximum possession as the spanish had against germany.
A freekick in the 4th minute from xavi was met cleanly by Sergio Ramos. His powerful downward header was brilliantly saved by Ajax keeper, Stekelenburg.
In the 10th minute, once again, Sergio Ramos made in roads on the right. He was through on goal and made a half cross, half shot. It was somehow cleared by a dutch defender. In the ensuing corner, David Villa missed a golden opportunity when he pushed the ball into the side netting.
Its becoming a scrapy affair with 4 yellow cards, 2 each. The dutch are taking the spanish out. Importantly, Bommel got a yellow card – and its in the 22 minute. He has to be extra careful now. I foresee him getting a red before the game is out.
Did you guys see the karate kick by De Jong to Alonso in the 28th minute? He should have been red carded instantly. Instead, its a 5th yellow card.
Holland is to me becoming a disgrace in the game. Sneider's high boot to Sergio Busquet should have warranted a yellow card.
At last, at the end of the first half, there was something worthy of football. Netherlands Robben had a good chance to score only to see his shot parried away by Casillas.
Second Half
The world cup final second half started in the same vein – littered with free kicks. Giovanni van Bronckhost became the latest player to be booked by Referee Howard Webb who is the first referee to have refereed Champions League and World Cup Final in the same season.
Just as i finished that paragraph, Heitinga became the latest player to be booked for a foul on villa. It was quite obvious. 5th for holland and 2 for spain.
In the 62minute, Robben was put through by Sneider. Robben was one on one with Casillas, the man they goal the Saint. Robben fooled Casillas to dive one way and shot the other. Somehow the ball caught Casillas right leg for a corner. Robben could have won it for Holland.
Jesus Navas was brought on in place of Pedro. Initially it was suprising as I had thought Torres would have been a better option. However, Del Bosque made the correct decision as Navas was very incisive on the left. One of his cross came to villa who had the golden opportunity on a near open goal. However his shot hit a grounded defender and went for a corner. Jesus Navas was actually homesick.
83min robben was put through once again. He left Puyol for dead and was slightly fouled by Puyol. However, Arjen Robben decided to stay on his feet and went one on one with Casillas only to see Casillas clutching it safely. Robben was obviously frustrated and ran after Howard Webb. He thought that he has been fouled by Puyol who incidentally was the last defender. Puyol was already on a yellow card. Maybe Robben should have fall over. His protestations saw him becoming the 6th Dutch player yellow carded.
Extra Time
Game went into extra time. In the 95th minute, Fabregas who came on for Xabi Alonso was put through by Iniesta. Fabregas was one on one with the Stekenlenburg but his shot was foiled by the Ajax keeper's leg.
In the 98th minute, iniesta was put through as van bronckhorst was slow to push up. in a rare situation, iniesta was selfish and did not lay for villa who had a better chance of scoring. in the end, credit to van bronckhorst for coming across and putting the ball out.
Jesus Navas is proving an astute substitution. He was laid by villa and his shot ricochet against van bronckhorst for a corner. Fabregas is showing good touch and dribbling skill only to shoot wide.
In the second half of the extra time, torres came in for villa. So villa will have to share his golden boot with Mueller and Forlan. in the 108th minute, the red card was inevitable. Heitinga was booked a second time for hauling iniesta down.
van De Weil was the 7th dutch player booked.
GOAL!!!!
In the 116th minute, Torres got the ball from iniesta on the left. Iniesta continued his running into the box. Torres crossed to him but was cut off by the dutch defenders. The ball fell to Fabregas who cooly slot it to iniesta who was unmarked and onside. Iniesta wait for the ball to drop and took a shot that bulged the net for the first time!
The dutch was unhappy because they feel they should have gotten a free kick earlier in the spanish half. Mathijsen was yellow carded. And a couple more after that.
The dutch were very unhappy at the final whistle. They surrounded and berated the howard webb and the assistant referee.
Final
The game for one is a fiesty affair. The world cup final is littered by free kicks with howard webb the referee brandishing more than 10 cards as he sought to have a stranglehold on the game. There were few exciting moments. Villa and Robben twice had excellent chance to put their nation in front or possibly win the final. Fabregas had one in extra time. However, luck had deserted them.
It was an exciting match in the end. It was end to end. So Spain made history by losing the first game of their world cup and went on to win the world cup. A befitting end to one of the top passers of the ball. They are now the reigning European Championship and World Cup.
I would like to thank my mother in law and father in law for watching the game with me. Also would like to thank mother in law who endured 30 odd days without RTM1.
Back to reality. Need to find something else to look forward too late nights and early morning.