SF 2 : Germany 0 – 1 Spain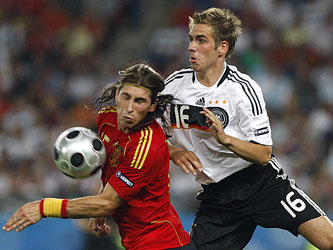 The second world cup semi-final starts cagey. Looks like they have a lot of respect for one another. German are having difficulty playing their game. The spanish were snapping on their heels. Vicente del Bosque setup his team to be very compact in midfield.
Pedro came in for the misfiring Torres. David Villa move in center. Pedro, Xabi and Iniesta forms the three behind him. The Spanish are really taking their time with the ball. They are passing fluently and the Germans have difficulty getting the ball. Spain has 70% of the possession.
Sergio Ramos has been a live wire in the opening minutes. He is making Jerome Boateng work very hard. Podolski have to come back to help him out. As long as Ramos or spain for that matter do not lose the ball while attacking, it will definitely deny German's of podolski's width play.
Puyol missed a golden opportunity to give spain a headstart in the 13th minute when he met a cross by Iniesta only to head it high.
The half ended with Oezil having the opportunity through on goal. Instead of shooting directly, he decided to take an extra step. His attack was nulled by Spain. Apart from a few good moves, the third minute excitement when a fan ran onto the field was the only memorable action in the first half.
Second Half
The second half started the way it ended. Immediately Spain went on the attack led by Pedro. Xabi Alonso had a lot of chances on goal when the ball was perfectly laid for him. However all his shots were not on target.
In the 58th minute Spain had an excellent chance when a cross from the left was eluded everyone including a diving David Villa. It was an open goal.
The german made a change when they took out Tchaikowsky and put in Kroos. This was what I had originally thought the player that would replace Muellar as an attacking midfielder. Before that they took off Jerome Boateng and put in Marcel Jansen. It is a wise move as Jerome Boateng were getting beaten over the left of Germany. Jerome Boateng is going to Manchester City next season.
German had a chance in the 68th minute when Podolski scoop a cross on the left and picked out Tony Kroos. He had acres of space. He side footed it towards goal. His attempt was parried by Casillas.
It was right after this that Germany had a sustain period of the ball. However it only lasted 3 minutes. It was back to Spain again. Iniesta is proving to be the menace. Im surprised the Germans did not put a man onto Iniesta.
In an ensuing corner which Iniesta won, Spain scored through Carles Puyol. 72nd minute. Germany has 15mins to rescue the game.
In the 82nd minute, Iniesta made a cross field pass to Pedro in a counter attack. Spain had Torres running on the left. It was 2 against one german defender. Pedro did well and all he had to do was to pass or lay the ball to Torres however he saw glory in his eyes. Pedro lost the ball. That would probably sealed the game. How much would Pedro and spain rue that miss.
Finally, after an extra three minutes, the game ended. Spain, the perennial under achiever of world tournament, was on course for their first ever world cup final.