Kranji Primary School Football Exchange 2013 – Game 1 vs District 6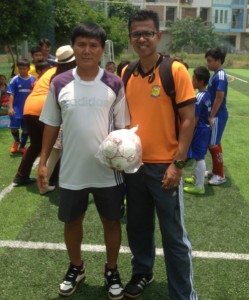 First game for 2013 Kranji Primary School Footbal Exchange in Vietnam. We met a team from District 6. Most of them are of height and age. A handful were younger while 2-3 were 12 possibly. First half, the senior team perform well below expectation although we did score first. The opponent scored nearer the end of the half.
We were not closing the opponent and committing habitual mistakes. If they are overawed or nervous of the occassion, then they better get over it or else the trip will be a waste.
The second half saw the juniors took the field. They perform much better and more composed although they conceded a goal.
In the third half, a mixture of players played. They were trying to play the ball by passing it around. They were more or less following instructions. We scored to level and took the lead 3-2. A momentary lapse in the final minute saw them scoring to make the score 3-3.
The team needs a lot of improvement. At the end of the day, I awarded the Player of the Game 1 medal to Priyan. He showed so much improvement in his game since he first started playing. He deserve to be on the trip. There is more for him to do to get a level that I want but he is trying to improve himself.
For the second game, the medal was awarded to Febryan. He is Primary 3. He pushed himself above his level. He press the opponent and many a times won the ball. He was opening up and asking for the ball constantly. He needs to make more movement and learn continously. Listen to my instructions and he will get better.
Ive included a video. You can look for other similar videos of the football game on youtube.