Respect for Mr Khidir and Mr Kadir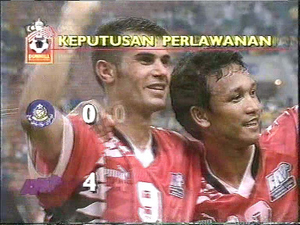 A couple of weeks ago, my mum brought to me news that a family friend, Mr Khidir, passed away. She cried and my eyes welled. He was just 45. In a moment, flashes of him passed by me. The jokes and treats. Nothing more poignant than the memory of when he offered to take me to Shah Alam for the 1994 Malaysia Cup final in a BMW. I have never been to Malaysia to watch us play there let alone be in a BMW. But, because of him, I get to see Fandi and Co decimate Pahang. Memories that will last forever.
Last night's Malaysia Cup semi-final between ATM and LionsXII brought back a lot of memories and emotions for me similar to those in 1994. Maybe I exaggerate. I always feel the high and lows when the nation competes "internationally". Unfortunately, recent international games had brought more anger than happiness.
But, yesterday I felt that we gave our all. They tried. Cooler heads would have prevailed but players like Mr Safirul would be enriched by this experience. More is expected of the seniors and I think at times they gave a good account of themselves. It shouldnt have gone to penalties. Had we taken a second goal, 97 or 100 minutes wouldnt have mattered.
Why were we asking the team doctor to come to the field in injury time baffles me. Im looking it up to see if this is in the coach's manual somewhere. It all boils down to bad habit. It was not the first time it happened, AND during this tournament. For all their endeavours, unfortunately, the injury during injury time remains in my mind.
Nightmare…
Its the morning after. I woke up to strenously remember what went on yesterday that made me feel sad this morning. Ah yes, it wasnt a nightmare. If only we had remain calm and concentrated rather than hoping for luck…It was all coming back.
So how true it was that Mr Kadir Yahya came out to say the same. I do not know him personally nor have I ever met him at a Malay wedding (I just had to say that didnt I). All I know about him was based on what was printed. And so far he has been spot on and straightforward. No embelishment, no flower. No nonsense straight talker, similar to his playing days. Many would agree that as a player he was not technically gifted but he more than made up for it for his pace, tenacity and spirit.
When a report of him coaching SJI came out earlier this year, I was surprised that he was able to find time to train the school. Such ambition of the school with no footballing history to engage a high profile coach. What a master stroke it was. Although they did not qualify for the second round of the nationals, they did not lose any of their group games; 2 wins and 3 draws. The team was made up of Secondary 1, a couple of secondary 2s borrowed from other sports. No wonder 63 students came to try for 5 places in SJI soccer DSA this year. Unfortunately my son didnt make it. There were very good players. Really good. Nevertheless, props for trying out while insist on fasting.
Can Turn into a Dream?
So Mr Raddy is leaving after Suzuki Cup. I couldnt understand why after. Why couldnt it be now. It should be now. Let a new coach take over and let him have his team. I know for one that there will be less pressure on the team if a new coach takes over than Mr Raddy. Mr Raddy said that he has offers on the table. So there's no pressure on him to win this tournament. I think we are doing this all wrong, unless the contract says otherwise. If this is true, then its unfortunate that financial terms is ruling over the well-being of the national team.
The debate is now on on who should lead next. Names had been thrown whether foreign or local. Many in favour of our footballing son Mr Fandi. I have heard so much about why he is not or cant be one. I wouldnt know whether its true or not. However, I did pose Mr Fandi this question to him point blank and he replied with a smile, "When the time comes."
There are voices for Mr Sundram and Mr Kadir to take the mantle since they have forged a good working relationship. There are also supporters of Mr Aide who is the current Assistant National Coach. A natural progression. Haji Tohari Paijan post this question on his facebook. A good lively input came out of that. But none, to my reckoning, mentioned Mr Kadir Yahya. I am of the opinion that he will best suited for the post. No doubt its big but he has years of playing experience internationally. He has been with Lions XII almost daily to continue his trade. He has been up against the best of coaches in the M-League. Even if he is not the one calling the shots, from the way he sits quietly on the bench, Im sure he will have formulated what he would have done. Sometimes I see him smirking or just having lazy eyes on the bench. Was he telling Sundram I told you so? Anyway, I digress. He is young and willing. Many teams are taking younger coaches these days. I dont see why we shouldnt. Even Camacho cant help China.
Kadir My Vote
Let Mr Kadir Yahya take the Suzuki Cup team. Let him fail. Like Mr Safirul, he will be better for it. The whole squad will be better for it. We will be better for it. The team will be fresh. It will be new and exciting, it will get the fans to come back. I didnt know who is Anuar Suffian if not for the Lions XII. Now the whole of Singapore knows about him. Even PM Lee mentioned about him. If not for Sundram and Kadir's faith, I would not have seen how good Safirul is and he is only 19. He can only get better. The fans came back and their names are on our lips.
The dream will be for Mr Fandi to take over. That is the ultimate. For now, I do not think we can be worse off with Mr Kadir than its already is. Al-Fateha to the late Mr Khidir and success to Mr Kadir.