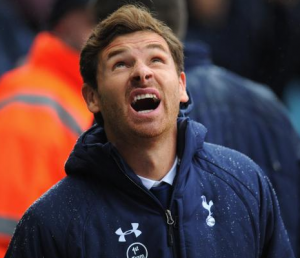 Andre Villas Boas must be thanking the heavens for the rain and that whatever he set out to do, worked. AVB must have made use of the 2 weeks break to review all videos – actually just videos against West Ham and Cardiff – to formulate a plan to break down deep defensive teams.
Initially, seeing Sandro, Paulinho and Lewis Holtby in midfield makes me think that the team is defensive because of the drastic "drop" in creative midfielders. Dembele and Eriksen was on the bench.
Apart from Townsend, where the spark is going to come from. Aston Villa must have been rubbing their hands in glee upon seeing the team sheet that they only had to contain Townsend. It was evident with the triple teaming against Townsend before the goal went in.
Holtby to me is a wall passer. He will come close to provide that outlet for a player to give and go. He doesn't initiate just a conduit. Did you guys notice Paulinho gesticulating firmly to Holtby telling him to stay up when he came close to ask for the ball? Hehe…What Paulinho did was right. If both of them were down, who would be helping Soldado against 8 defenders?
So firstly, AVB may have decided to lower creative and increase hard runners. This result in quicker ball being played forward and lower hold up and square passes.
Second was to finally "release" Vertonghen of main defensive duties. I would like him to be tried as a defensive midfielder so that he can join in the attacks. But having him on the left worked out okay. It was like the first season he was at Tottenham Hotspur, working well with Defoe and Bale. It's a little different but we leave it that.
And from what I saw, AVB made them work in 3s. Previously it was just on the left, now it's happening on all parts of the field. Soldado did a lot of work helping Townsend on the right especially in the second half. Key was movement. There were plenty of them that passes move forward instead of squares.
Apart from Soldado's goal, there was not much guile. It came later when Villa had to go for goals and there were space. The close one twos can only get better with time. Getting much confident all the time. Succinctly, Sandro, Holtby and Vert being on the left were key to the win against Villa.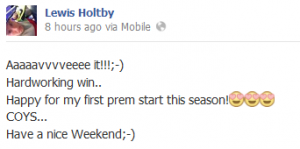 Lewis Holtby being delighted at his first english premiership league start said it as much on his facebook page. And I agree that if guile is replaced by pure hardwork to produce wins, so be it. At the end of the day, points matter not elegant.