The Singapore General Election is upon us amid the COVID-19 pandemic. It had been a tough few months for all of us and I am thankful for the government for their slew of grants and handouts.
I thank God that I declared myself self-employed all these years thus qualifying for SIRS. Although they could have done better if they had stated somewhere in CPF of IRAS website or an SMS that I do qualify for it. Waiting for the day was nail biting.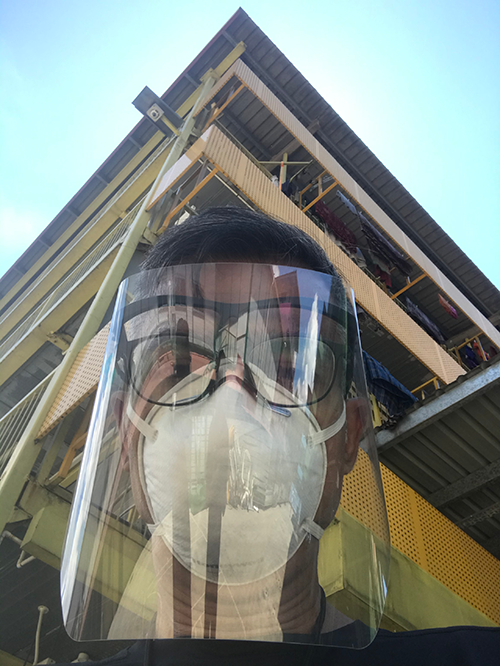 During the pandemic, I answered the call for volunteers to go to the dorms for reservist. On the 18th of April, I was posted to S11 to be a FAST officer.
I couldn't have asked for a better posting. I knew I could provide perspective as Ramadhan was drawing near. I extended my recall and was there for 3 weeks.
JOB APPLICATION 1 : MHA FAST OFFICER
While on duty I was told of the vocation via MHA and MOM. I submitted application via MHA on the 23rd April 2020. A month went by yet no news although I could see that my application was still tagged as "Submitted". By then I had ended my S11 stint. The job posting was closed end of May. On hindsight I should have signed up via MOM as well because I was told that their process was faster as they need men on the ground.
JOB APPLICATION 2 : DORM OPS MANAGER
I signed up for the PMET JobSecurityCouncil – Jobs Alert telegram channel. I thought this was a good initiative. They had advertised companies that require workers of various levels.
Soon jobs for dorm executives, liaison officers and managers appeared. I held out because I was waiting for MHA as I wanted to be posted back to S11. No news and it was near end May.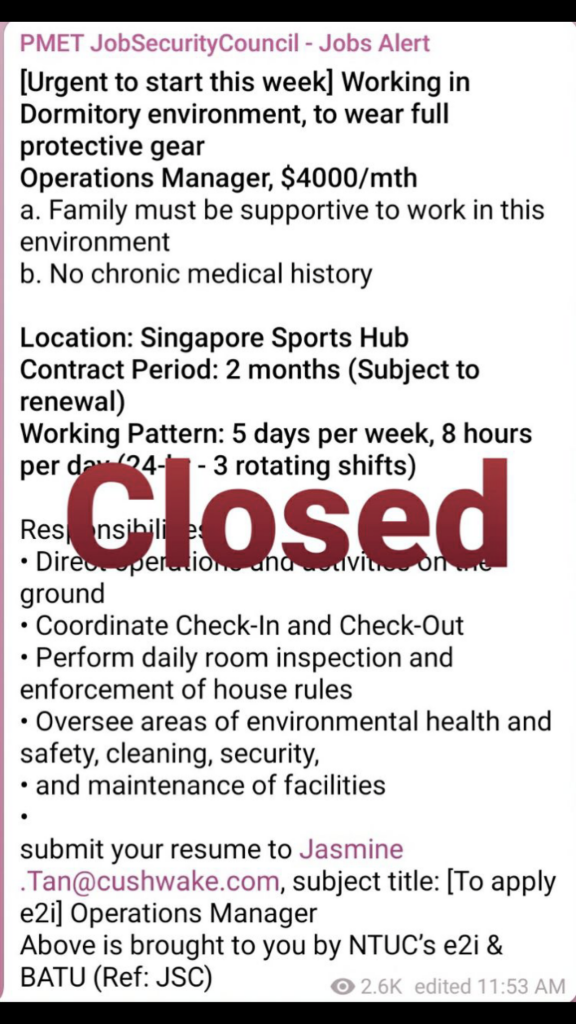 I couldn't pass on the next opportunity and applied for Dorm Manager at Sports Hub. A two month contract, June and July, was good because I had no idea how the schools CCA were going to be when it re-open.
I applied and got the call early June. Among other things the lady asked if was ok to work as Liaison Officer which pays about $3.2K. I said Im opened to it. And we agreed that since I was available immediately she told me to standby. I assumed that with my experience as an SPF officer and still serving plus S11 experience, I do qualify otherwise they wouldn't have called. Its July now and I am still on stand by.
In the meantime, I could see that there were more postings of similar jobs scope with "[Urgent to start this week]" tagged. Now I am wondering why would they advertise the posts when they know that they would have applicants for previous posts that they have vetted and were on standby.
JOB APPLICATION 3 : HOUSING OFFICER
And no its not HDB but MOM. I was told that MOM created these vocations sort of similar to FAST officer but with expanded roles. And yes, it was going back into the dorms. Seeing that my status for FAST officer via MHA was still "Submitted", I applied and received email to complete couple of essays before going for interview. I did them and submitted.
The day came and my interview centered on the fact that my name was in ACRA. I am a coach and had to have a business name when I bid for the school jobs. Apparently that became a stumbling block. The ultimatum given was whether I could erase my name from ACRA for them to consider me. I was disappointed. I didn't know that I couldn't have my name in ACRA – holding another trade, receive money from another trade. I told them that I would not be coaching and would get other coaches to cover me. They raised their eyebrow to say that it would mean that I would still be dealing with the schools etc.
I said to them that the job was 11 months contract. It wasn't permanent. The lady replied that whether contract or permanent they have the same policy. The job she says entails to permanent.
The lady ended by asking whether I had any question so I asked about salary. She replied she could only reveal if I am shortlisted. I do not think the interview lasted more than 10 minutes and didn't contain anything from my essay or experience. Well they have a job to do and there was a long line of applicants.
I was thinking when I left that shouldn't the job be permanent with the customary three months probation? Oh well who am I to query. I was forlorn. Texted the mrs. She gave some encouraging words.
To my surprise, yes story hadn't finish, I received a call at about 8-9pm the same night…from the lady in MOM. I was thinking wow. Good job on them for still be working…and on me I guess. So she asked me again whether I had thought through and willing to take my name off ACRA.
I said I could transfer the name out. She said yes and but I should not be dealing with it at all. I asked once again what was the salary. Im thinking that at this point, if the offer was good, I would have done it. Once again she said that only if I was shortlisted. Im thinking, wasn't this so? Anyways I requested a day's adjournment. She emailed me so that I could reply to her.
At the end of the next day, I wrote to her that I wasn't able to do something of that scale so big so fast because it requires time and a lot of correspondence with stakeholders. It just got complex the more I thought about it. I was on recall for GE reservist and it was using a lot of my time. I stated that I did not want to delay her in her decision making.
SO HOW DO I QUALIFY FOR A JOB IN SINGAPORE?
It is really difficult to get a job in Singapore, for me at least. One, I applied and waited and waited, pass over other postings with the hope that with my experience, of which there could not be another during this period, would land me the job. Yet, no news, no calls.
Second, once again, a job that I had experience with, fresh, yet its July and no call although it was "Urgent to start this week!" in May/June. Do have a look in telegram by scrolling to June 2nd. There were more of similar postings before and after June 2nd. Telegram is unlike whatsapp, you could see previous postings.
And thirdly, it was my mistake for not knowing that it was a civil service job, whether contract or permanent, that I could not have any other trade. Even though we were in special situation and they acknowledge that they could use my experience and expertise. Well I am assuming anyway.
GE is here again. So how do I qualify for a job in Singapore?