The Mehndi party night before the wedding
Today is the Mehndi night. The Mehndi party is held the night before the wedding. Traditionally, it is held in the home of the bride and only includes women from the bride's side – although this has expanded to include other ladies by our family. It is a fun and relaxing evening for the bride to spend with her closest friends and relatives. The evening is spent applying mehendi (henna) designs to the bride's hands and feet. Friends and family may or rather WILL also have some mehndi. On top of that, its accompanied by music and dance.
Here we are on our way to the place, taken in the lift.
After arriving at woodlands in our spank "new" car, we could see that the decor is already up. Getting frightening. And there were two wedding dais; one below and another one in the house. As usual, I sat on it first and insisted the wife sit as well as gleefully, our photos were taken.
This video is taken while everyone was preparing in the kitchen. Look at the spread! Its a second video actually. The first time I took, I didnt press the record button!!!
Next video is about Aunty Faridah, our glamour girl, who decided to hog the video – as she usually does.
And then at 8pm, when the two cute ladies arrive to dance, the men were shooed away to the void deck. Soon after we made our way to an uncle's place over at Yishun. We had rice with curry chicken and sambal fish. Bolehlah. We forgot to take a picture of ourselves. Maklumlah, isteri pergi disco, suami duduk rumah. While chit chatting, dear missus sent over a picture.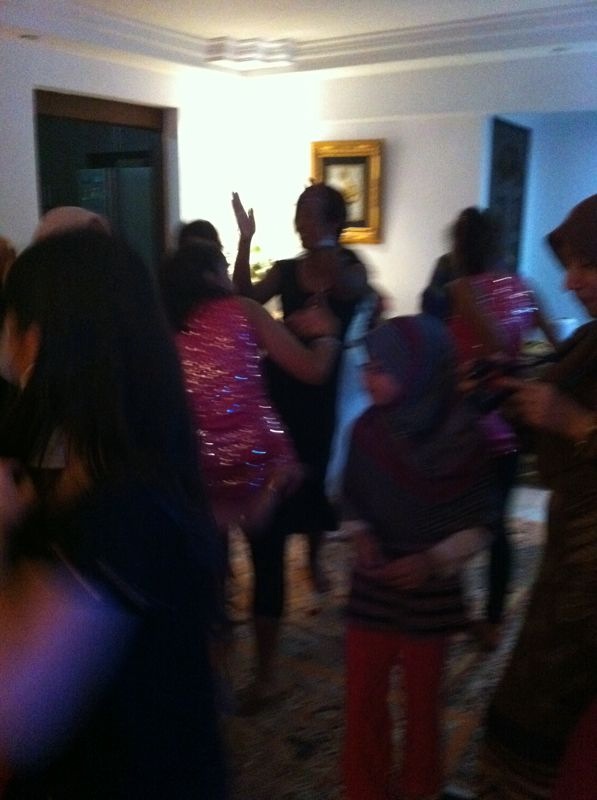 All I could reply was Masya Allah. Found out later they had a really good time. Thats what they deserve and more.